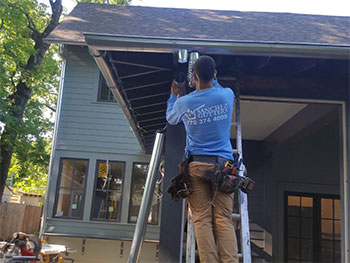 SANCHEZ GUTTERS LLC is family-based business located in Douglasville, GA. We strive on providing our customers the highest satisfaction on all our gutter installations, whether it is gutter covers, downspouts or any wood replacement we guarantee every job.
Here at SANCHEZ GUTTERS LLC you will find that customer satisfaction and quality work is a combined effort of a family that has been in the construction industry for more than two decades, we know the secrets that many small businesses seem to have forgotten and we practice them on a daily basis, quality work, excellent customer service before and after the job has been completed and affordability are the keys to creating a lasting relationship between ourselves and our customers, we know one thing for certain, if we treat you fair and we give you the best possible service at a price that you can afford, the next time that you have a need to make an improvement to your home you will keep us in mind and that gives us great satisfaction.
We would love an opportunity to meet with you and to provide you with a written, no cost, no obligation estimate, so please feel free to contact us by whatever means best suits your needs, you can fax in your request at 770-319-9664 or you may use the contact form provided on the site, you may also call our office during the hours of 7:00 AM until 7:00 PM Monday thru Saturday, my family and I attend Church on Sunday, however, I will be more than happy to provide you with an estimate on Sunday afternoon after church hours if that is the only day that will fit into your busy schedule.
Again, thank you for stopping by and we look forward to an opportunity to earn your business as we do not believe in hard selling and we do not solicit our customers by using hard hitting telemarketing tactics, we advertise our services through direct mail, newspaper and other media and of course we receive referrals from our many satisfied customers, we know and understand that you as the homeowner are the most qualified individual to choose the company that is best suited to meet your needs and we also know that is the reason that you contact us, so hard selling is a thing of the past, we strive to make your decision to do business with us a painless one and we will be more than happy to provide you with a list of a few of our satisfied customers so that you may call and talk to someone who has already done business with us, you be the judge!